Personalized Care
Your smile comes to us
The denturology practice of Andrea Joy Petit located in Ile Perrot specializes in the fabrication of traditional and implant supported dentures (All-On-4) and offers maintenance and repair services.
Formerly managed by Jean-Claude Daoust for 45 years, he retired in 2018, leaving his loyal clientele in good hands. Having worked with Mr. Daoust since his earliest days in the business, it is now Andrea who takes over ownership and management of the practice. Today, our team consists of four denturists, a dental hygienist, a coordinator, and two administrative assistants (one at our clinic, the other at the St. Anne de Bellevue Veterans Hospital). The Andrea Joy Petit practice welcomes you in a setting that reflects the team's warm and reassuring image.
We work with several professionals in the region to offer you a comprehensive service tailored to your needs. Whether it's an acrylic prosthesis, a balanced prosthesis or an implant-supported prosthesis, all our services are rendered with an eye for detail and precision.
Come and meet us during your consultation!
Our job is to help you choose the best treatment plan that respects your tastes and your budget!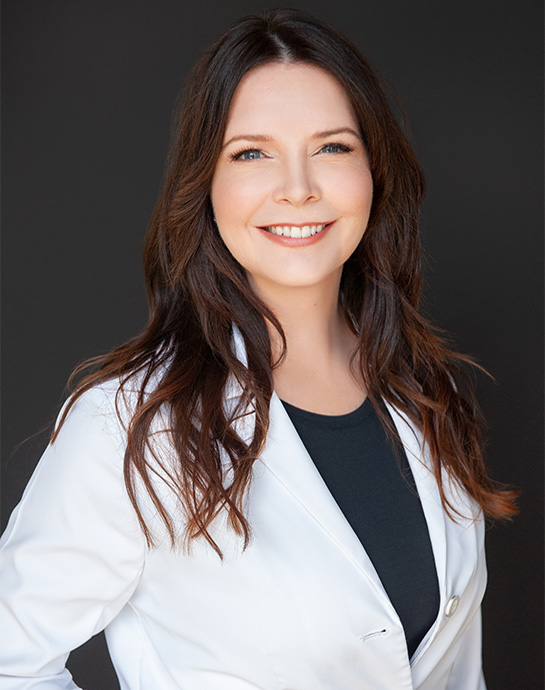 Services

An annual check-up is essential to keep your dentures in perfect condition, to prevent any inconvenience or risk of breakage.
Your face, mouth and jaws change over the years, which is why it's important to have your dentures examined at least once a year, even if they look intact to you.
During this examination, a cleaning may be carried out, so that you can always maintain the same comfort with your dentures. Cleaning will also help to remove accumulated tartar, and ensure that you can keep your dentures for as long as possible.

A dental prosthesis replaces one or more missing teeth.
They are custom-made to fit the shape of your mouth, for a result that's as natural as it is comfortable.
There are several types of dentures. Full dentures are used to replace an entire dentition, while partial dentures are used to replace only certain teeth.

The term "All on 4™" or "Teeth in a day" refers to a denture that is permanently attached to a jaw by four or more implants.
The name "all on four" comes from the fact that only four dental implants are used to secure a denture or hybrid bridge.
"Teeth in a day" on the other hand, means that you will have all of your teeth removed and replaced with dental implants in a single visit. The initial restoration will be a temporary denture or bridge which will stabilize the implants and facilitate the healing process. After some time, once the implants have successfully integrated into your jawbone, your permanent denture will then be secured in place.

Are your dentures no longer adhering well enough to your gums? You want to extend their lifespan.
After several years of continuous wear of your dentures, a natural phenomenon occurs due to the lack of stimulation of your bones. This is called bone resorption. As the condition of your gums changes, this is often the reason for the space created on the inside of your dentures.
With the help of an impression, the denturist can transform the inside of your dentures so that they are once again stable and adapted to your gums.
This modification reduces the movement that bothers you, so you can keep your dentures for some time to come.
The best solution, however, is to make new dentures.
Relining is often used in the first year following the extraction of several teeth.

Prosthetic treatment is essential for a gradual transition to a balanced oral health system.
Fitting new prostheses can be an enormous adjustment, especially if the last prostheses were used over a very long period of time.
The addition of tissue conditioners or smooth plates can be installed to restore parameters that have been transformed over the years.
This treatment reduces the harmful impact on the temporomandibular joint and facial muscles. It usually takes place before or during the fitting of new prostheses.

Commonly referred to as a "cushion", the soft base is a flexible, spongy base placed inside the denture. It reproduces the final impression made by the denturist. It makes your new denture more comfortable and easier to adapt to. The soft base is often found when there is marked bone resorption throughout the lower arch. It can be added to an existing prosthesis, or used to replace it.
Easy to maintain and appreciated by many, this product may be just what you need.

A mouth guard is used during intense physical activity.
It significantly reduces the severity of impacts to teeth, jaw and mouth tissues. Its stability and fit in the mouth are essential for maximum effectiveness.

The denturist can repair dentures. In some situations, an impression is required for proper placement. This may involve a broken tooth or even a denture that has been fractured in two. A number of durable options are available to save the situation.

It's also possible to add teeth to your existing denture. Following your extraction at the dentist, your denture can be adapted to your new oral condition. 
Call us ! We will be happy to answer any question you may have or to arrange an appointment.
ANDRÉA JOY PETIT DENTURIST
Our Team
For ever 45 years the clinic has been located at 89 Boulevard Don Quichotte, office 6 in L'Ile Perrot, on the 2nd floor (accessible by stairs or elevators)
89 Boulevard Don Quichotte, office 6 in L'Ile Perrot, on the 2nd floor
(stairs and elevator available)
T : (514) 453-2350